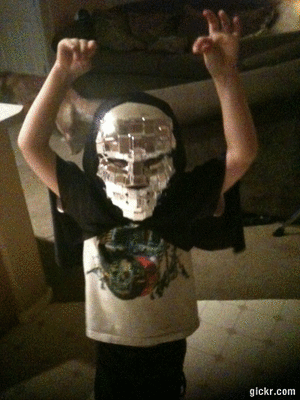 Hayden found this mask at the grocery store this weekend and HAD to have it. So I caved and spent a whole $7 on it. He ran around most of the weekend pretending to be a super-hero and using a pirate sword to open and close his invisible secret lair. He fought off Evil King Cow who has a spaceship and Evil King Chicken who steals eggs.
We attended his Open House on Thursday and was finally able to talk to his teacher. She said he's doing well and has settled into a routine now being able to focus. Aside from completely losing a necessary folder, he does well with turning in his homework and class work.
So we rewarded him with a used video game and a dinner out which for him is just french fries and chocolate milk.